Meet the 2017-19 At-Large Board Candidates
About the Election
According to NYSAR3's by-laws, the four At-Large Board Members are elected by the general membership; two each year, for two-year terms.
Electronic voting (including a write-in option*) for the two open seats will begin on Tuesday, November 7th at 12:00 pm and will close on Thursday, November 9th at 12:00 pm.
You will receive an email message from NYSAR
3
through "BallotBin" containing poll access information unique to you by Tuesday, November 7. We will be unable to provide you with replacement ballot access information so please do not delete or lose this message. ***Please ensure that
ballotbin.com
is in your email White List to reduce the chance of the ballot being flagged as junk mail.*** Be sure to check your spam filter if you do not see the email in your inbox.
For members attending the
conference
, a computer kiosk will be made available for the duration of the conference.
Votes will be tallied and announced at NYSAR3's Annual Meeting on Thursday, November 9th.
Your vote in the NYSAR3 Annual Election is very important. The Annual Meeting is the only opportunity for members to fill At-Large seats. Even if you are unable to attend the Annual Meeting in person, please be sure to cast your vote electronically and support our nominees.
*Note: If you choose to write-in a candidate, it will not be visible to other voters - so we will tally multiple write-ins for the same person.
Greg Hancock
Deputy Commissioner
Town of Islip Department of Environmental Control
My name is Greg Hancock. I have been serving as Deputy Commissioner of the Town of Islip Department of Environmental Control since 2012. However, I have been working in various Departments and capacities at the Town of Islip for over 34 years. The Town encompasses an area of approximately 163 square miles and is home to approximately 336,000 residents. Early on in my career, I was running the Office of Constituent Service at approximately the same time when the Islip Garbage Barge was all over the news, and the importance of recycling took on a much higher profile in our collective lives. In fact, I wrote my Master's Thesis on the need for government to require the use of recycled paper to help push the open market to develop more recycled products. I am excited to help get the recycling message out to more people, to help expand on the resources available on our website, to increase our membership and work with our members and partners to advance our legislative agenda. I look forward to working with the board, if elected. Thank you for your support.
Lorinda Hill
Asstant to Director Plant Facilities
Rockland Community College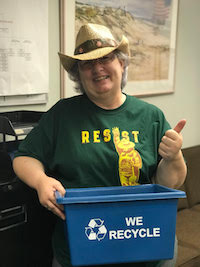 Serving for the last five years on the NYSAR3 board has been instructive, fun, hard work, and most gratifying.
Nysar3 has been in the forefront of several key state initiatives over the year and I have been privileged to be a part them. From the humble beginnings of recycling to complex isssues like textiles and Organics we have made a difference. From encouraging and supporting k though 12 in their recycling to providing colleges with grants to continue their work I have been pleased to work with some great people and proud of what NYAR3 has accomplished. While I have represented college interests on the board, being instrumental in the creation and continuation of the College Council grant program, I have worked for all our members throughout the state. And I would very much like to continue to serve the needs of our industry, community and state.
Thank you.
Ted Fisher
Founder & CEO
County Recycling, LLC
After nearly 15 years in the custom clothing industry, I was introduced to the textile recycling and recovery business. So far, it's been an amazing and challenging 6 year journey in which I look forward each and every day in making a difference in people and planet. I am the Founding Partner and CEO of County Recycling, LLC. a social enterprise and proud environmental waste reduction company, located in Westchester County New York. We are built on the tenets of transparency, integrity and with a strong philanthropic and environmental foundation. My passion and drive in both life and in business has been a true measure of my commitment to the betterment of society and the preservation of the environment. My company's purpose is to provide highly effective community outreach tools, designed to assist government, business, non-profit, housing and community sectors in reaching and exceeding their sustainable, charitable and financial goals.
Debbie Jackson
Retired
I have been recycling since the 70's; while in college I was collecting aluminum cans and newspapers to support beach clean-ups. I worked in the DEC's Bureau of Waste Reduction & Recycling for over 27 years helping communities, businesses, state agencies and institutions with their waste reduction, reuse, recycling and composting programs. Now that I have retired from DEC, I would like to continue to support NYSAR3's goals in assisting local programs through outreach and education.
Thank You!