2022 Community Reuse Grant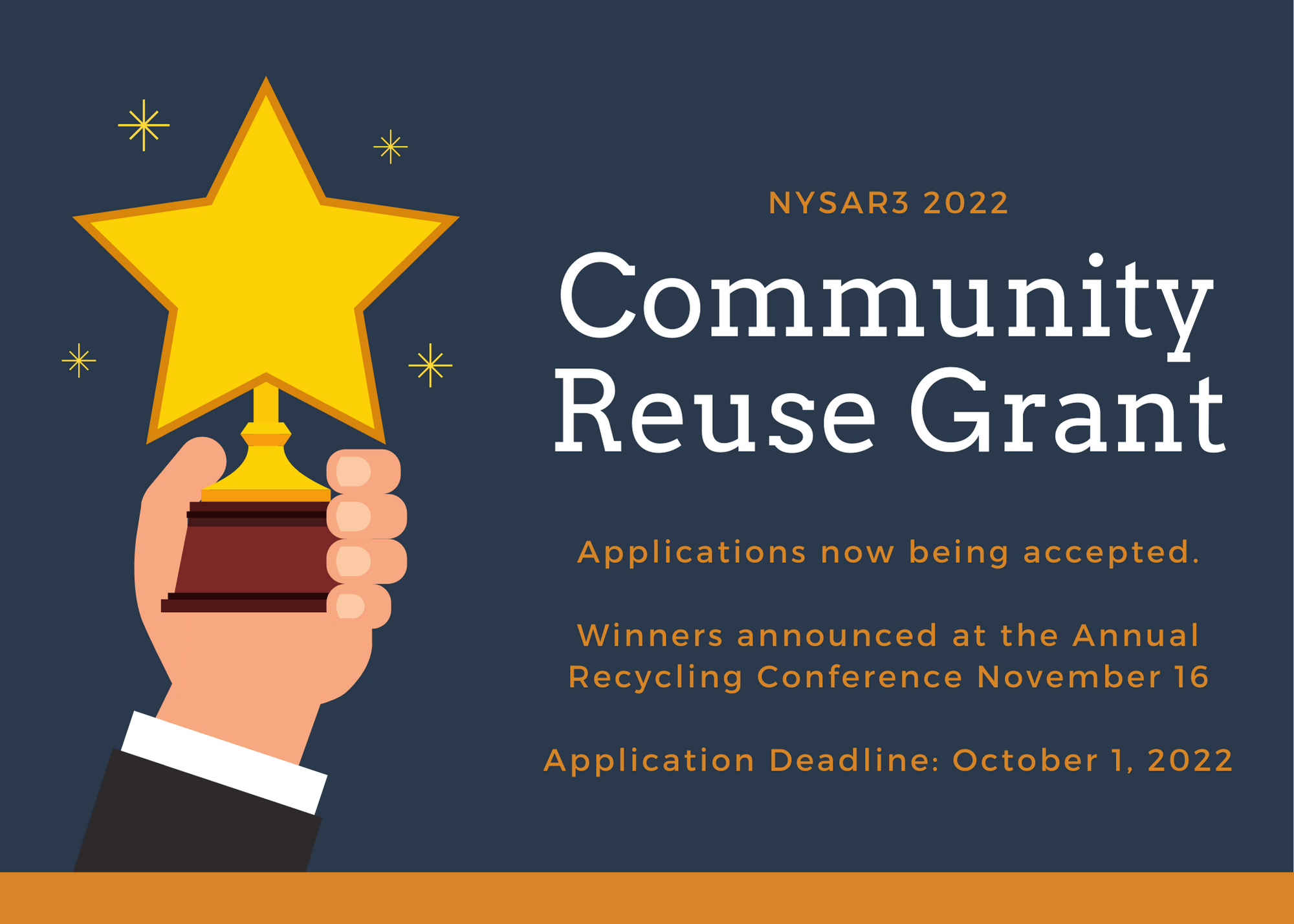 NYSAR3 has developed the 2022 Community Reuse Grant ($5,000) to recognize community-based partnerships, businesses, groups, or non-profit organizations whose work has or will lead to lasting benefits that enhance community quality of life and ensure stewardship of the environment by saving money, energy, and natural resources.
The applications will be reviewed and judged by members of the NYSAR3 Board and Reuse Committee, representing community-based groups, partnerships, businesses or non-profit organizations. The grant can be awarded for $5,000 to one winner, up to a total of five (5) grants of $1,000 each, at the discretion of the judges.
Entries will also be eligible for Honorable Mention. The top winner will also receive a complimentary one-year NYSAR3 membership. Winners and Honorable Mentions will be highlighted on NYSAR3 and EPA social media and at the NYSAR3 Committee Fair Networking Event to be held during our Annual Recycling Conference.
Projects must meet the criteria listed below. Projects that meet any of the three (3) criteria qualifying for additional points are strongly encouraged.
Grant Eligibility
- Applicants can be community-based groups, businesses, partnerships, or non-profit organizations.
- As NYSAR3 already provides College and Green Schools grants, K-12 schools and colleges are not eligible for this grant. For more information regarding these grants, visit https://nysar3.org/page/grants-4.html
- Organics-related projects will not be considered for this particular grant.
- Applications must be received no later than October 1, 11:59 pm.
Grant Announcement:
The grant winner(s) and any honorable mentions can be received in person or virtually and will be announced and presented on day two (2) of the NYSAR3 Annual Recycling Conference, to be held virtually and in-person on November 15-16, 2022.