Events and Community Pledges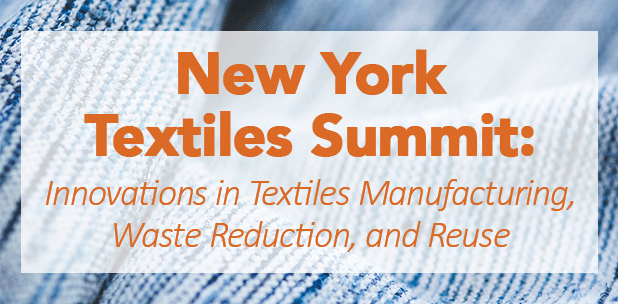 2017 Textile Summit
On October 31, 2017, the Re-Clothe NY Coalition, New York Product Stewardship Council, and the Product Stewardship Institute hosted a broad group of stakeholders, including manufacturers, retailers, recycling/reuse organizations, the fashion industry, state/local government, researchers, nonprofits, and consumers at this interactive Summit. The event drew professionals from across the supply chain who are interested in driving innovation and overcoming challenges in textiles production and recovery. Thank you to those who joined us at this SOLD OUT event! The Re-Clothe NY Coalition would also like to thank our generous sponsors, including NYSAR3.
View a recording of the morning session, here.
View a recording of the afternoon session, here.
Textiles collected at the 2014 NYSAR3 Conference in Cooperstown.
2016 America Recycles Day Collection Events:
2014 Collection Events Included:
Onondaga County is holding a special textile collection event at the local mall.
The St. Lawrence Environmental Management Council, the Local Living Venture and the Salvation Army, Massena, have partnered to host multiple collection events throughout the county. The collected textiles will be available to thrift/reuse stores in the county and the leftovers will be picked up by the Salvation Army.
Colton Pierrepont Central School District's Environmental Club / Green Team will be collecting jeans and t-shirts, from which they will make reusable shopping bags that will be distributed at the school's Winterfest.
The City of Buffalo and Erie County with the newly created Western New York Coalition for Donated Goods (WNYCDG) are hosting collection events throughout the fall and holiday season. Visit their website for more information.
The Town of Bethlehem is partnering with the Bethlehem Central School District and the Delmar Farmers Market to hold a collection event and launch an on-going public education program.
Tompkins County will be holding textiles collection at their Food Scraps Recycling Drop Spots. This a special addition taking place only on November 15th and 16th.
The Fort Drum Military Installation will be hosting a textile collection event on post and the collected textiles will go in the St. Pauly Textile sheds that they have on post.
Girl Scout Troop 50145, of the South Jefferson Service Unit, is having a textile collection event.
The NYS Department of Environmental Conservation's Central Office is hosting a collection event on America Recycles Day. In addition to the other items collected for reuse and recycling, DEC staff can bring in unusable textiles for recycling.
Green Ossining, Ossining Girl Scouts and Down to Earth Markets have partnered to host a collection event on Nov. 15th.
The following communities and organizations are undertaking activities in support of this campaign:
Rockland County is doing press events and a radio piece.
Clinton County, in conjunction with Casella Resource Solutions, is doing a press release and advertisements on the web and at local businesses.
St. Pauly Textile is asking its members to bring in clothing to donate on America Recycles Day.
USAgain is sponsoring an America Recycles Day Challenge where participating schools across the country compete to collect the most clothes for recycling during the month of November.
The Jefferson County Transfer Station, Town of Adams Transfer Station, Town of Champion Transfer Station, Town of Clayton Transfer Station, Town of Henderson Transfer Station and the Town of Wilna Transfer Station are all participating by handing out flyers promoting the Textile Recovery Campaign and encouraging residents to bring their textiles to the transfer stations on America Recycles Day. Each transfer station has a St. Pauly Textile shed onsite.
The Lewis County Transfer Station is participating by handing out flyers promoting the Textile Recovery Campaign and encouraging residents to bring their textiles to the transfer station on America Recycles Day. The transfer station has a St. Pauly Textile shed on site.
The Town of Yorktown kicked off an innovative Textile Recycling program in 2015, and have already recovered 41,859 lbs of household textiles for recycling! Additionally, the Town of Yorktown received two Earth Day awards, one from NYS Senator Terrence Murphy, and one from Westchester County Executive Robert Astorino, both recognizing this innovative program.
A Cornell University student, Autumn Newell, is conducting a survey on the habits and behaviors around clothing and household textile disposal of U.S. residents.
The following communities have passed the resolution supporting our statewide recovery campaign (view the resolution here):